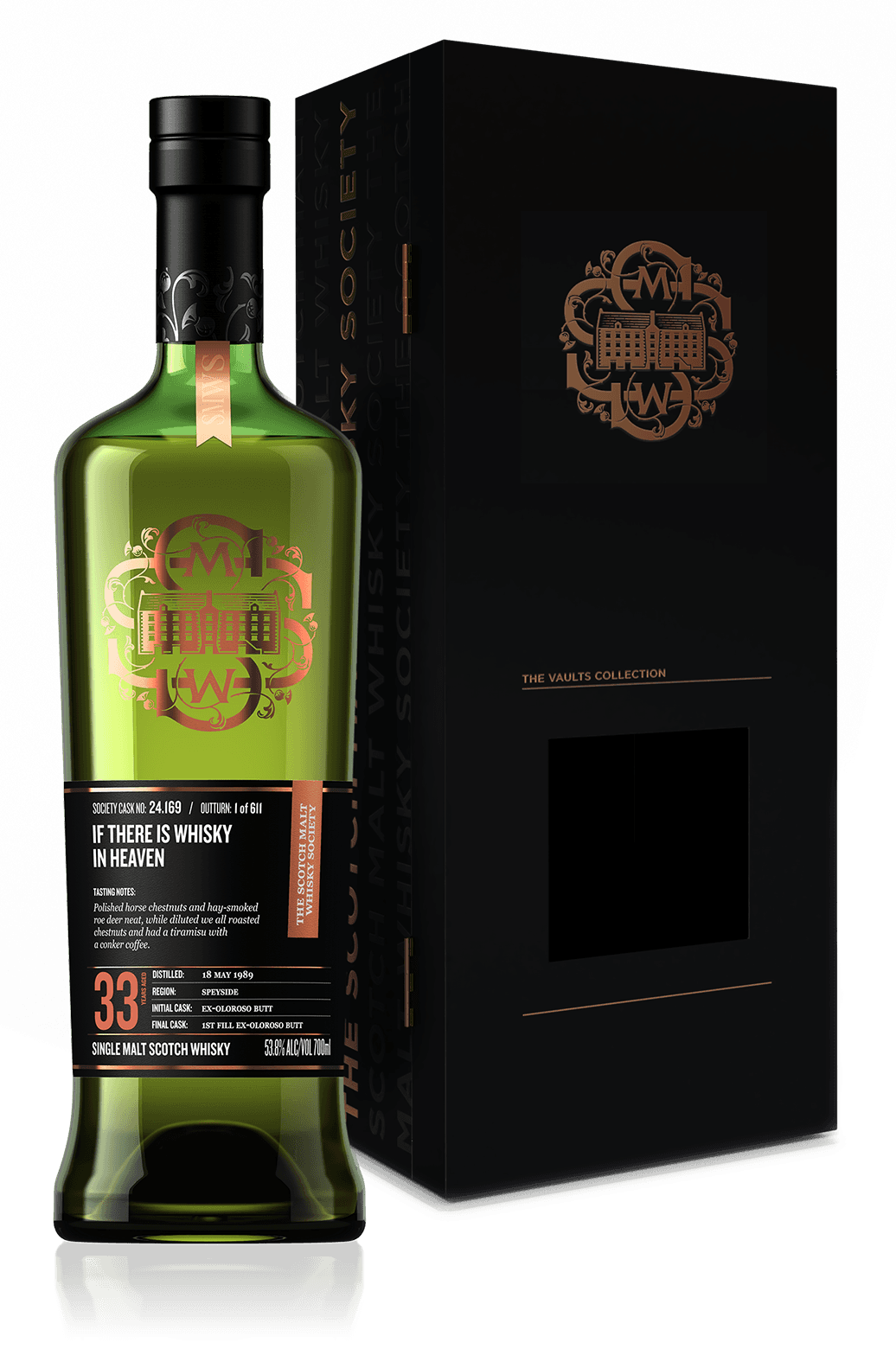 Cask No. 24.169
If There is Whisky in Heaven
$3,495
18 Left
Flavour Profile:

Age:

Region:

Cask:

ABV:

VOL:
Notes
The Vaults Collection 
Cask No. 24.169
If There is Whisky in Heaven
Speyside, Spey
A deep russet hue led us straight into an autumn landscape with aromas of polished horse chestnuts, rosehip, birch branches, prunes, dates and figs. Tasting neat the first thing we noted was "still plenty of zing", followed by flavours of hay-smoked roe deer with blackberry and beetroot beautifully balanced by a fresh berry chantilly cake. After reduction, we found cedar, tobacco and dark chocolate notes next to the scent of roasting chestnuts. On the palate were orange oil, raspberry and blackberry jam, ahead of a long finish from a tiramisu with conker coffee liqueur. Following 29 years in a refill oloroso butt, we transferred this whisky into a first fill oloroso butt. 
Cask: First-fill Oloroso butt
Age: 33 years
Date distilled: May 1989
Alcohol: 53.8%
USA allocation: 48 bottles
700mL bottle format
About Cask No. 24.169:

This profound malt represents a journey back in time to a bygone era of distilling that will reward with literally liquid 'history in a glass'. Remarkably aged for 33 years in sherry casks (29yrs in refill Oloroso and 4 years in 1st fill Oloroso!), Cask No. 24.169 is our oldest ever released from this distillery and nothing short of a monumental Speyside expression illuminating a whisky lover's top shelf.
About The Vaults Collection:
The Vaults Collection is a selection of the finest and rarest single cask, single malt whisky, set aside from The Scotch Malt Whisky Society's most remarkable stocks over the years. They have been released from the depths of our treasure trove of casks, after decades of slow maturation and careful nurturing. The Vaults Collection represents the whisky lover's dream: A chance to journey back into whisky history, including the opportunity to experience styles or distilleries that no longer exist, like Cask 24.139 Beauty beyond skin deep. The Collection takes its name from the Society's historical home at The Vaults in Leith, Scotland's oldest commercial building in continuous use whose connection with the drinks world dates back to the 12th century. Each bottle has a specially designed label and is offered in a beautiful wooden box.