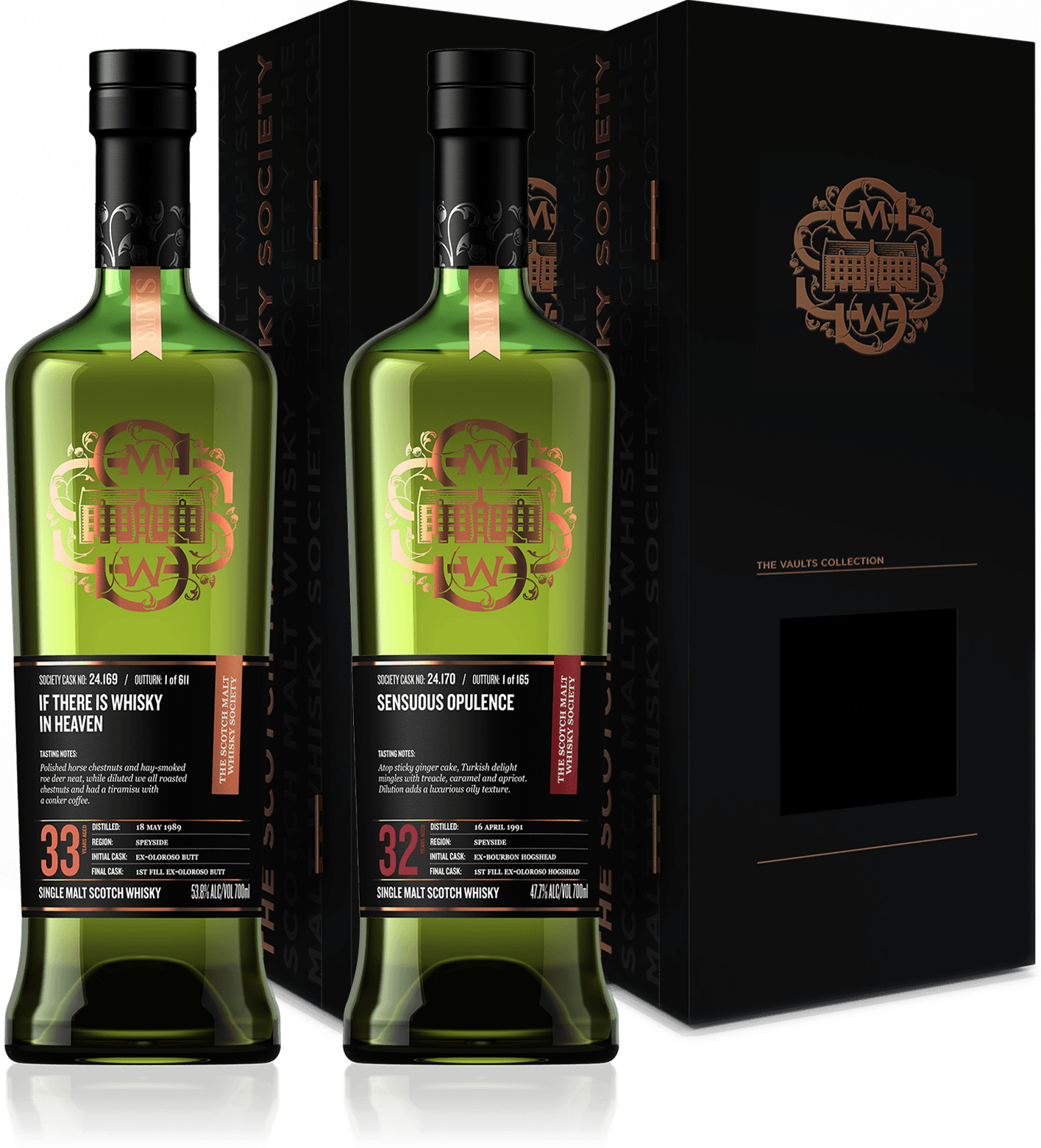 Bundle
Titans of Sherry
$5,995
18 Left
Flavour Profile:

Deep Rich & Dried Fruits,

Old & Dignified

Age:

Region:

Cask:

First-fill Oloroso butt, First fill Oloroso hogshead

ABV:

VOL:
Notes
If you are in the mood for making a serious whisky investment, here is a most extraordinary tandem of Vaults Collection titans for the ultimate side-by-side sherry maturation experience. Titans of Sherry bundle pairs Vaults 33-year-old Cask No. 24.169 If There is Whisky in Heaven with 32-year-old Cask No. 24.170 Sensuous opulence. The former draws upon the full spectrum of sherry aromas and flavours after twenty-nine years in a refill Oloroso butt and four years in a first-fill Oloroso butt whilst the latter combines the nuances of refill ex-bourbon hogshead maturation with rich, fruity, spicy, sweet and nutty sherry character from Oloroso cask. A more perfect pairing might not be possible for sherry lovers…. Treat yourself and your very best friends to a tasting never to be forgotten!
If ordered separately: Cask No. 24.169= $3,495; Cask No. 24.170= $3,195.
Cask No. 24.169 - If There is Whisky in Heaven
Date distilled: May 1989
Cask:
First-fill Oloroso butt
Age: 33 years
Alcohol: 53.8%
Region: Speyside Spey
700mL bottle format
Cask No. 24.170 - Sensuous opulence
Date distilled: April 1991
Cask: First fill Oloroso hogshead
Age: 32 years
Alcohol: 47.7%
Region: Speyside Spey
700mL bottle format