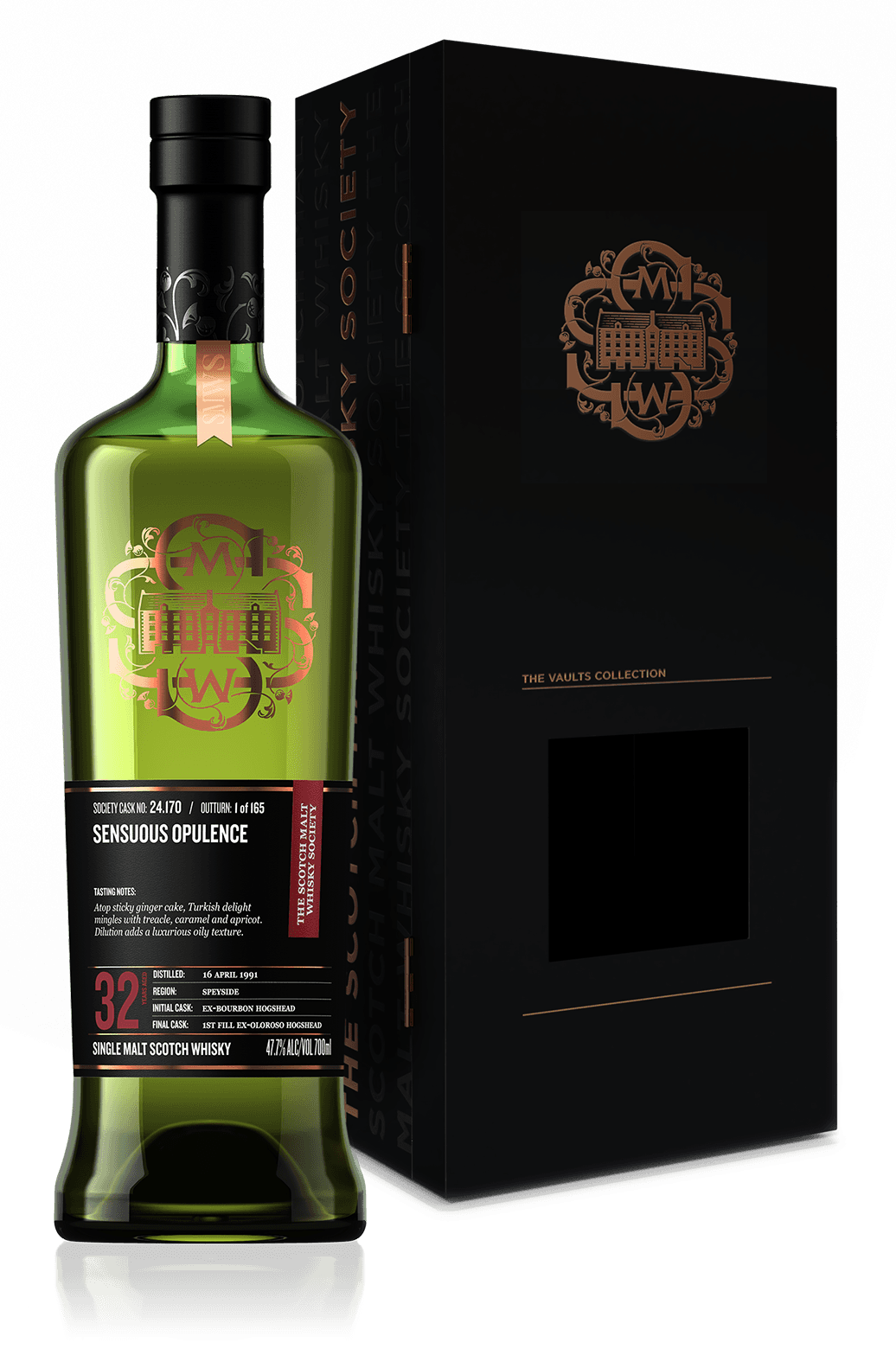 Cask No. 24.170
Sensuous opulence
$3,195
30 Left
Flavour Profile:

Age:

Region:

Cask:

First fill Oloroso hogshead

ABV:

VOL:
Notes
The Vaults Collection 
Cask No. 24.170
Sensuous opulence

Speyside, Spey
Atop sticky ginger cake, Turkish delight and Spanish rum mingle with treacle, jam and gooey apricot. Battenburg cake is introduced to the palate, upgraded with orange zest, custard, chocolate bitters and sultanas. Having introduced water, the nose offered salted caramel sauce, madeira cake and a wonderfully floral, elegant and fresh cherry. The palate, now a luxurious oily texture, was rich in singed toffee, liquorice root, brandy de Jerez and walnut. After 24 years in an ex-bourbon hogshead, we transferred this to a first fill oloroso hogshead for the remainder of its maturation.
Cask: First fill Oloroso hogshead
Age: 32 years
Date distilled: April 1991
Alcohol: 47.7%
USA allocation: 42 bottles
700mL bottle format
About The Vaults Collection:
The Vaults Collection is a selection of the finest and rarest single cask, single malt whisky, set aside from The Scotch Malt Whisky Society's most remarkable stocks over the years. They have been released from the depths of our treasure trove of casks, after decades of slow maturation and careful nurturing. The Vaults Collection represents the whisky lover's dream: A chance to journey back into whisky history, including the opportunity to experience styles or distilleries that no longer exist, like Cask 24.170 Sensuous Opulence. The Collection takes its name from the Society's historical home at The Vaults in Leith, Scotland's oldest commercial building in continuous use whose connection with the drinks world dates back to the 12th century. Each bottle has a specially designed label and is offered in a beautiful wooden box.