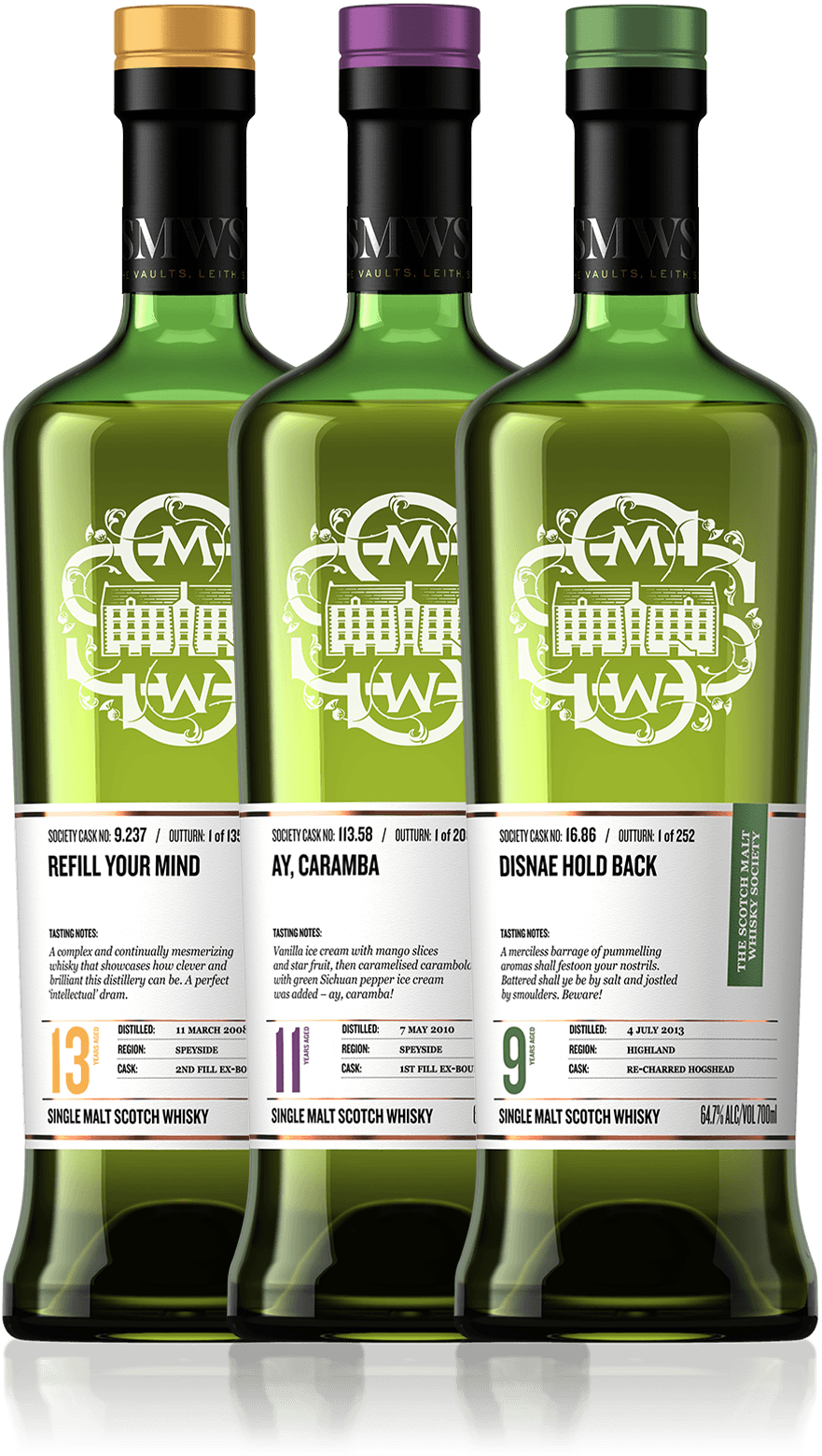 Bundle
October Hidden Gems from Scott Brunow
$345
Sold Out
Flavour Profile:

Spicy & Dry,

Spicy & Sweet,

Heavily Peated

Age:

13 years, 11 years, 9 years

Region:

Speyside, Speyside, Highland

Cask:

Second-fill barrel, First-fill barrel, Refill re-charred hogshead

ABV:

VOL:
Notes
At The Scotch Malt Whisky Society, we are on a passionate pursuit of the world's most unique casks of whisky. Oftentimes we discover true Hidden Gems amongst our whiskies. Here are three 'below the radar' casks chosen by Scott!
Let's start off with a perfect transition to fall, the Spicy & Dry profile. Cask No. 9.237 Refill your mind is a 13-year-old from this flavour profile and a distillery we usually see fruitier whiskies from. Matured in a second fill barrel the nose brings scents of unburnt incense, dry leaves, malt and nutty banana bread. Neat the palate pounces with dried oak, citrus zest, buttery spiced herbs and dried honey. Adding water reveals buttered burnt toast with apricot jam and more herbs.  A classic example of our Spicy & Dry flavour profile and maturation in the second fill barrel allows a great look at the distillate character!
Cask No. 113.58 Ay caramba had me at first sip. This 11-year-old Spicy & Sweet Speyside tantalizes the nose with tropical fruits, hot chocolate with raspberries and melted marshmallows. A tropical fruit basket explodes on the palate neat with berries, pineapples, melons, mango, and white chocolate with a melted pepper cinnamon syrup. Add a drop of water changes it up and shows green tea, waxy furniture polish, rose hips and banana cream pie. A true delight this cask is!
A truly great whisky in the Heavily Peated flavour profile, Cask No. 16.86 'Disnae hold back' does not disappoint. A 9-year-old Highland matured in a refill re-charred hogshead punches the nose with bbq burnt ends, smoked ham, malt vinegar, pepper and freshly poured asphalt in the summer. The ABV on this one is 64.7% so be careful neat! Expect an abundance of thick peat smoke and oil, smoked fish, iodine, and burnt apples. A little dilution and you'll notice pickled fish, ginger, grilled lemons, and smoked sausage. Jump right in with both feet or tip toe in, its up to you. You will not be disappointed!
If ordered separately: Cask No. 9.237= $150; Cask No. 113.58= $125; Cask No. 16.86= $115. 
Cask No. 9.237 - Refill your mind
Date distilled: March 2008
Cask: Second-fill barrel
Age: 13 years
Alcohol: 55.2%
Region: Speyside Spey
Cask No. 113.58  - Ay, caramba
Date distilled: May 2010
Cask: First-fill barrel
Age: 11 years
Alcohol: 60.5%
Region: Speyside Spey
Cask No. 16.86 - 'Disnae hold back'
Date distilled: July 2013
Cask: Refill re-charred hogshead
Age: 9 years
Alcohol: 64.7%
Region: Highland Southern
700mL bottle format