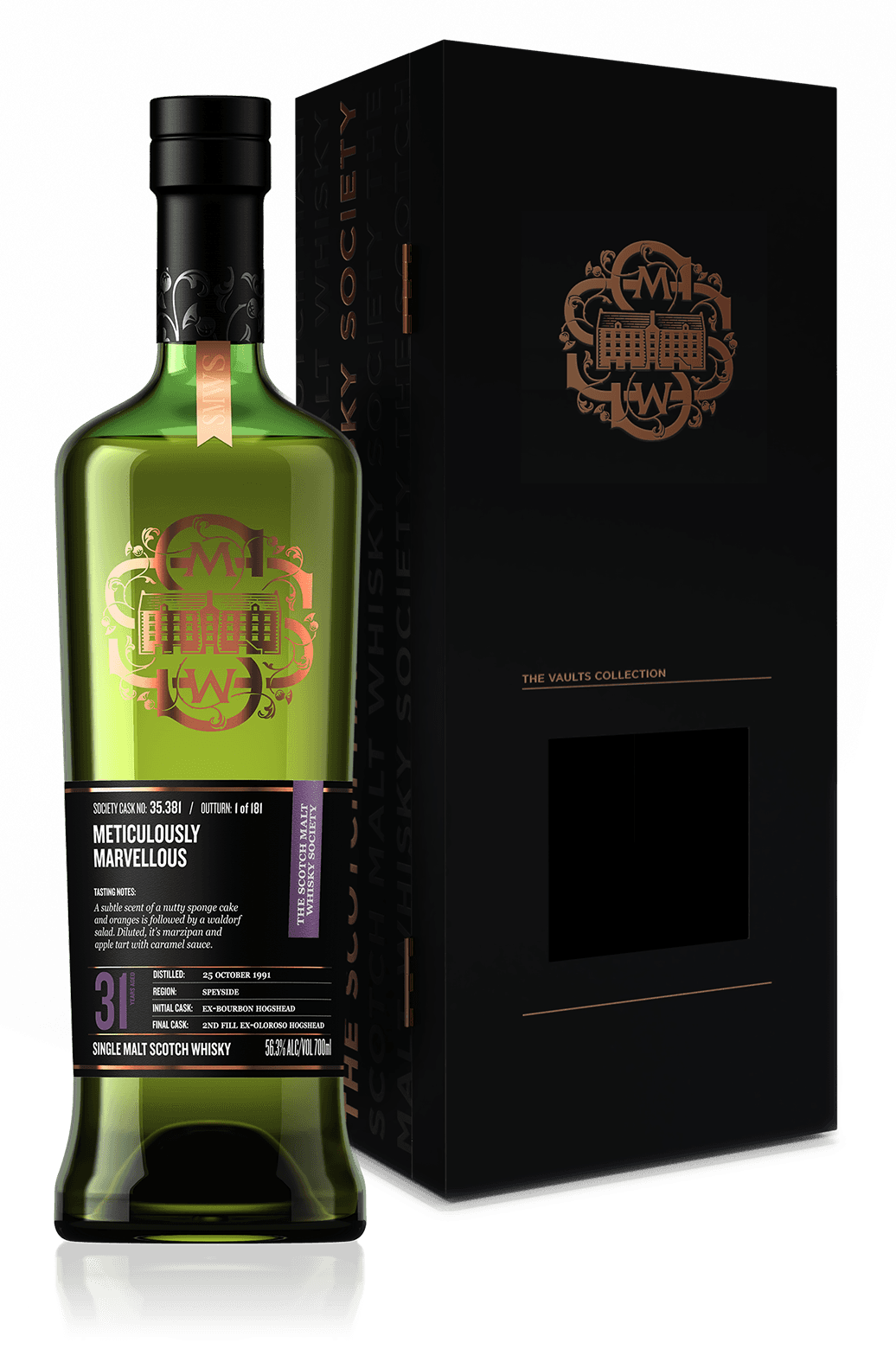 New
Cask No. 35.381
Meticulously marvellous
$675
16 Left
Flavour Profile:

Age:

Region:

Cask:

Second fill Oloroso hogshead

ABV:

VOL:
Notes
The subtle scent of a nutty sponge cake moistened in a light lemony syrup, topped with pastry cream, walnuts and cinnamon combined with a glass of orange muscat, wafted through the air to mesmerising effect. The taste was that of a Waldorf salad made with rocket for a peppery bite and topped with toasted walnuts and juicy grapes enveloped in a creamy lemony dressing. Following reduction, we found Christmas spices, stem ginger, walnut cake and a sweet espresso on the nose. On the palate, marzipan and apple tart with caramel sauce. Following 27 years in an ex-bourbon hogshead, we transferred this whisky into a second fill oloroso hogshead.
USA allocation: 30 bottles
About The Vaults Collection:
The Vaults Collection is a selection of the finest and rarest single cask, single malt whisky, set aside from The Scotch Malt Whisky Society's most remarkable stocks over the years. They have been released from the depths of our treasure trove of casks, after decades of slow maturation and careful nurturing. The Vaults Collection represents the whisky lover's dream: A chance to journey back into whisky history, including the opportunity to experience styles or distilleries that no longer exist. The Collection takes its name from the Society's historical home at The Vaults in Leith, Scotland's oldest commercial building in continuous use whose connection with the drinks world dates back to the 12th century. Each bottle has a specially designed label and is offered in a beautiful wooden box.