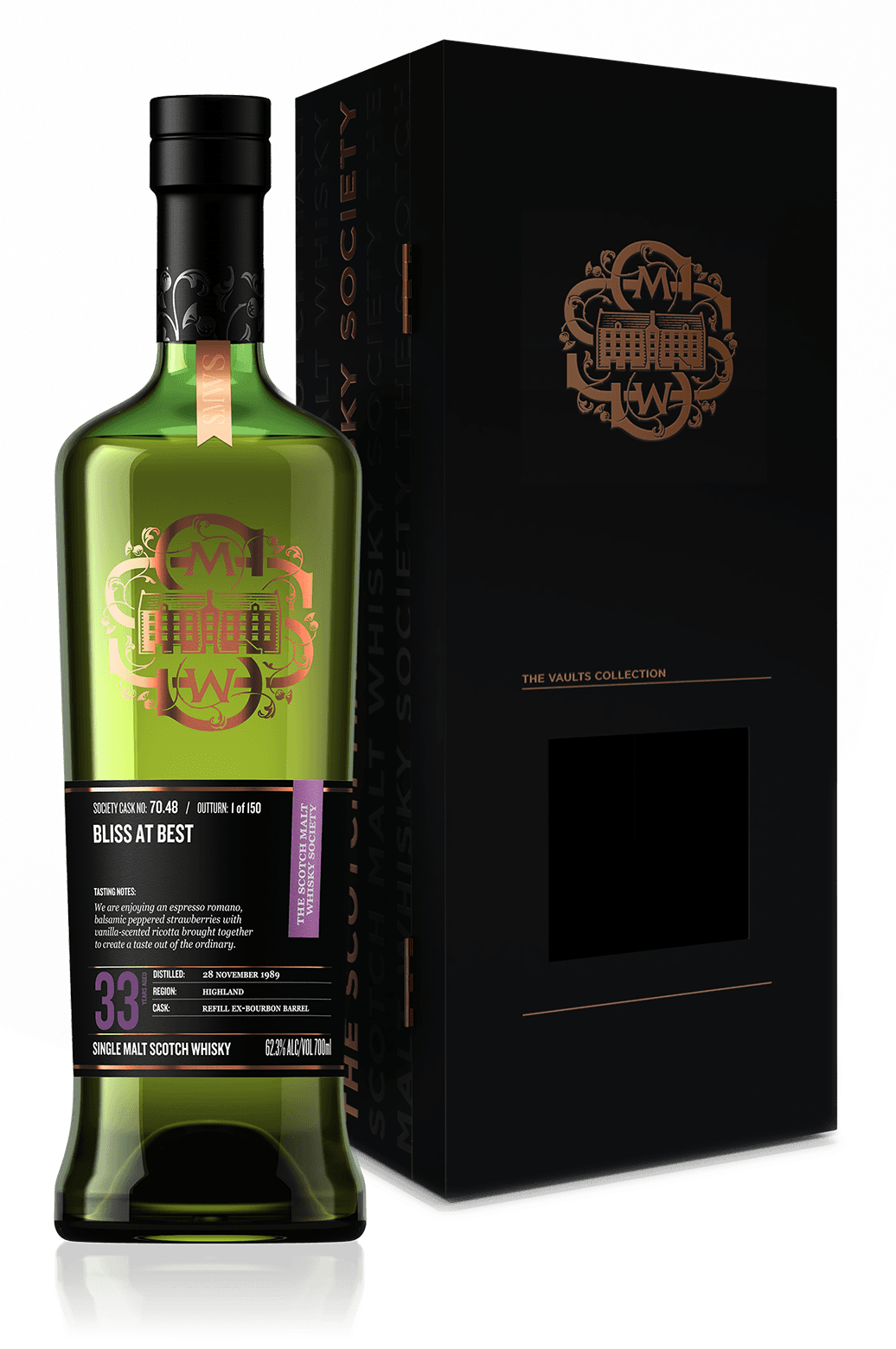 Cask No. 70.48
Bliss at best
$995
9 Left
Flavour Profile:

Age:

Region:

Cask:

ABV:

VOL:
Notes
The Vaults Collection
Cask No. 70.48
Bliss at best

Highland, Northern

We were transported to the Amalfi coast in Italy, sitting at an outside café as we enjoyed the warm sunshine and an espresso romano, combining a coffee shot with a candied lemon slice and a teaspoon of sugar. On the palate we had ordered balsamic peppered strawberries with vanilla-scented ricotta and cinnamon apple Turkish delight. After a drop of water, we enjoyed the aroma of a grappa riserva which has matured over 10 years in French wine and sherry casks. The taste had a spicy, fruity richness, next to candied lemons, brioche and pastry, with vanilla and almond notes in the long finish.
Cask: Refill barrel
Age: 33 years
Date distilled: November 1989
Alcohol: 62.3%
USA allocation: 36 bottles
700mL bottle format
About The Vaults Collection:
The Vaults Collection is a selection of the finest and rarest single cask, single malt whisky, set aside from The Scotch Malt Whisky Society's most remarkable stocks over the years. They have been released from the depths of our treasure trove of casks, after decades of slow maturation and careful nurturing. The Vaults Collection represents the whisky lover's dream: A chance to journey back into whisky history, including the opportunity to experience styles or distilleries that no longer exist. The Collection takes its name from the Society's historical home at The Vaults in Leith, Scotland's oldest commercial building in continuous use whose connection with the drinks world dates back to the 12th century. Each bottle has a specially designed label and is offered in a beautiful wooden box.