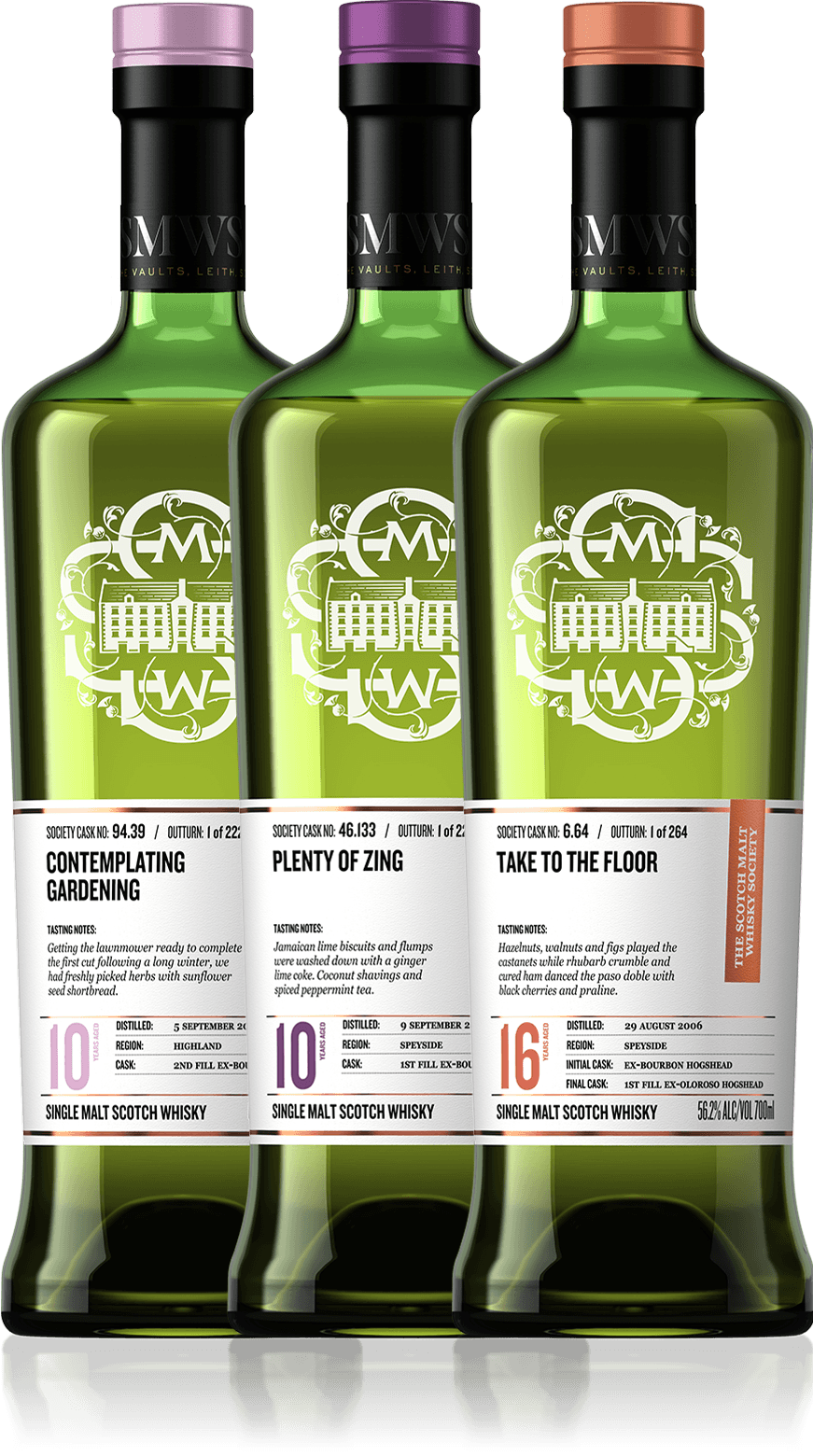 Bundle
Get Festive!
$385
1 Left
Flavour Profile:

Young & Spritely,

Deep Rich & Dried Fruits,

Spicy & Sweet

Age:

10 years, 10 years, 16 years

Region:

Highland, Speyside, Speyside

Cask:

Second-fill barrel, First-fill barrel, First-fill Spanish oak Oloroso hogshead

ABV:

VOL:
Notes
Our Get Festive! bundle will prove to be a rewarding taste adventure for you and your whisky-loving companions. Cask No. 94.39 Contemplating gardening welcomes Highland richness and intensity as fragrant herbs unite with tropical fruits and honey for a bold start to your tasting. Cask No. 46.133 Plenty of zing brings the Speyside intensity in the form of rich vanilla and lemony citrus accented by ginger and mint in this beauteous pour. Cask No. 6.64 Take to the floor marries sherry-soaked notes of toasted hazelnuts, chocolate and dried fruits with ease for a sophisticated finish to your flight. Happy Holidays!
If ordered separately: Cask No. 94.39= $120; Cask No. 46.133= $115; Cask No. 6.64= $195.
Cask No. 94.39 - Contemplating gardening
Date distilled: September 2012
Cask: Second-fill barrel
Age: 10 years
Alcohol: 62.2%
Region: Highland Eastern
700mL bottle format
Cask No. 46.133 - Plenty of zing 
Date distilled: September 2012
Cask: First-fill barrel
Age: 10 years
Alcohol: 62.4%
Region: Speyside Lossie
700mL bottle format
Cask No. 6.64 - Take to the floor
Date distilled: August 2006
Cask: First-fill Spanish oak Oloroso hogshead
Age: 16 years
Alcohol: 56.3%
Region: Speyside Deveron
700mL bottle format