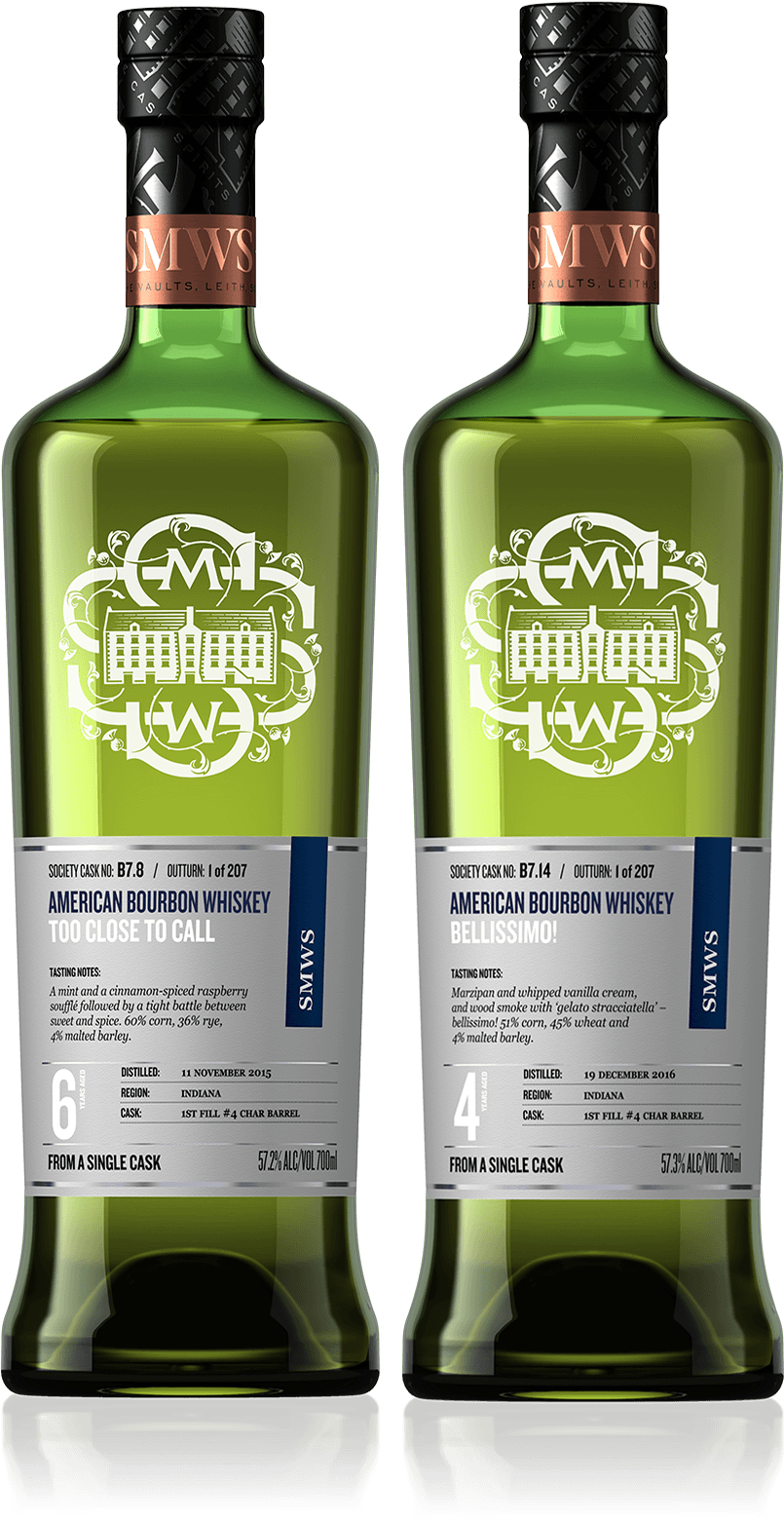 Bundle
Distillery Dive #B7: High Rye & Wheated Bourbon
$145
Sold Out
Age:

Region:

Cask:

New American oak #4 charred barrel, #2 charred heads

ABV:

VOL:
Notes
A cannonball of flavour awaits with our latest bourbon dive! Distillery Dive #B7: High Rye & Wheated Bourbon explores the nuances of two bold and complex bourbons juxtaposed according to their grain compositions. These recipes, or mash bills, greatly impact what combination of aromas and flavors will come through in your glass.
Today's dynamic duo was distilled in Lawrenceburg, Indiana at distillery B7, and aged in new American oak #4 charred barrel with #2 charred heads (barrel top and bottom). Two unique mash bills (grain recipes) have created equally bold, yet incredibly nuanced expressions American whiskey lovers will delight in discovering. Cask No. B7.8 Too close to call boasts 36% rye with 60% corn and 4% malted barley. This 'high-rye' bourbon walks a tightrope of ripe fruits, confections (cherry, carrot cake & caramel) and spice (ginger, cayenne pepper & cinnamon) you will delight in balancing upon. Cask No. B7.14 Bellissimo! invites softer and rounder aromas and flavours with a mash bill of 45% wheat, 51% corn and 4% malted barley. Candied notes abound from two grains (corn and wheat) that expand across the palate with vanilla, brown sugar, tropical fruits and more! These two single cask expressions are the perfect complement to your bourbon collection and for the next gathering of your whisky-loving friends! 
If ordered separately: Cask No. B7.8= $85; Cask No. B7.14= $75 (700mL bottle formats).
Cask No. B7.8 - Too close to call
Date distilled: November 2015
Cask: New American oak #4 charred barrel, #2 charred heads
Age: 6 years
Alcohol: 57.2%
Region: Indiana, USA
Cask No. B7.14 - Bellissimo!
Date distilled: December 2016
Cask: New American oak #4 charred barrel, #2 charred heads
Age: 4 years
Alcohol: 57.3%
Region: Indiana, USA