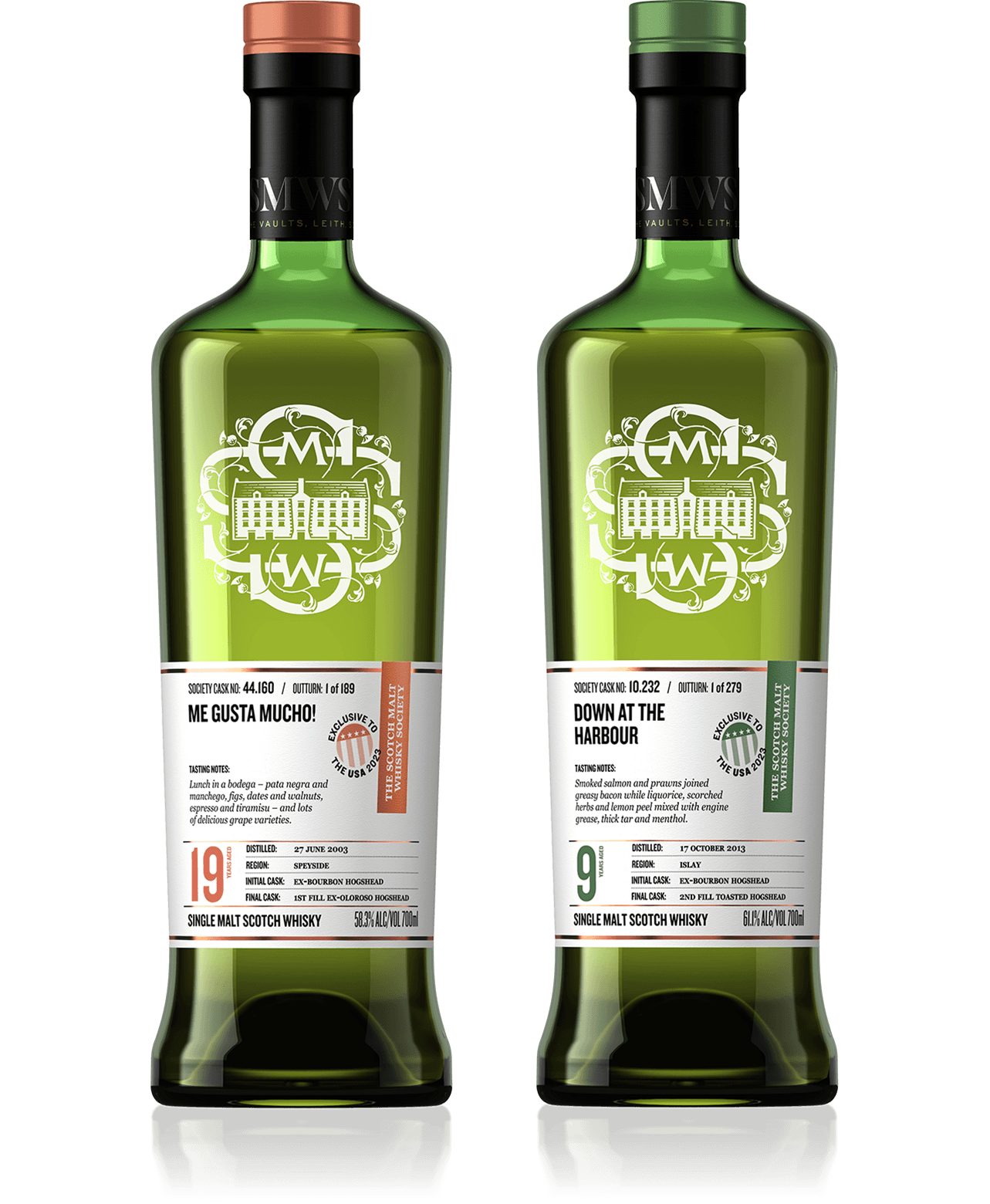 Bundle
Sherry & Smoke Show
$345
Sold Out
Flavour Profile:

Deep Rich & Dried Fruits,

Heavily Peated

Age:

Region:

Cask:

First-fill Spanish oak Oloroso hogshead, Second-fill toasted oak hogshead

ABV:

VOL:
Notes
Celebrate summer in cask strength style with two USA Exclusive Society casks chosen by your SMWS America Team!  Cask No. 44.160 Me gusta mucho! offers up a decadent display of Oloroso charisma. Elegant and deeply delicious, this cask encapsulates all the tastes of southern Spain (jamon, dried fruits, sherry & Seville oranges) along with an Italian dessert course (tiramisu & espresso) for good measure. Sweet and sophisticated, this is a sherry lover's delight! Cask No. 10.232 Down at the harbour is another stunning peated cask from Islay. Smoky, oily and meaty in all the right ways, there much more to this dram than tarry ropes and engine rooms. Roasted nuts, bacon, smoked fish, citrus and aniseed notes all provide depth to this incredible sipper. All the sherried notes and smoky sensations will set the stage for an unforgettable tasting with whisky-loving friends!
If ordered separately: Cask No. 44.160= $235; Cask No. 10.232= $130.
Cask No. 44.160 - Me gusta mucho!
Date distilled: June 2003
Cask: First-fill Spanish oak Oloroso hogshead
Age: 19 years
Alcohol: 58.3%
Region: Speyside Spey
700mL bottle format
Cask No. 10.232 - Down at the harbour
Date distilled: October 2013
Cask: Second-fill toasted oak hogshead
Age: 9 
years
Alcohol: 61.1%
Region: Islay
700mL bottle format