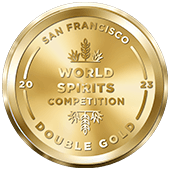 Blended Batch 20
Batch 20
$115
Sold Out
Flavour Profile:

Age:

Region:

Cask:

Refill hogsheads & first-fill French oak Jamaican rum barriques

ABV:

VOL:
Notes
World Spirits Competition 2023 DOUBLE GOLD MEDAL!

From creator Euan Campbell:
To create this expression, we opted for some rather unusual casks. Crafted from French oak, these barriques had previously been used to mature Jamaican rum in the Cognac region of France. We filled them with a selection of Speyside malts for a period of 28 months of additional maturation. We then blended selected casks together to create this intensely fruity dram.
On the neat nose we poured golden syrup and honey on to wheat biscuit breakfast cereal. Some indulged in chocolate-coated marzipan and slices of rich madeira cake, while others baked a golden syrup sponge that was heavy on orange peel and dried papaya. The taste was an explosion of rum-soaked pineapples while the French oak contributed spices such as anise and cinnamon. A satisfying toasty oak note evolved into vanilla pods, mace, nutmeg, orange oil and mango. With a splash of water we could smell a bowl of sugar-coated puffed rice, varnish and resinous oak, ginger cake, orange zest and barley sugars. There were deep notes of dunnage warehouse, apple cubes, and hints of buttery rancio topped off with desiccated coconut. The palate was now silky and mouthcoating, with tangerines and dark chocolate, and a whisky baba pudding. Melon and mango were drizzled with floral honey, and we ate chocolate orange cake mix straight from the bowl.
USA allocation: 450 bottles